Name of Institution:
Acacia Park Primary School
Slogan:
Striving for excellence
Motto:
Forward with determination (Certi Pergite)
Address:
Acacia Park Parliament Village
Goodwood
Cape Town
7460
Telephone: 021 591 7087
Fax: 021 591 6089
Email: admin@akasiaparkls.wcape.school.za
Principal: Mr Ashley Carelse
Email: carelse.ashley@gmail.com
Administrative Clerk (Reception): Mrs Veronica Janson
Logo: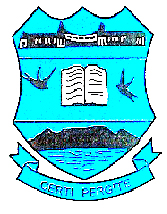 Vision:
The vision of all stakeholders of Acacia Park Primary is to prepare all learners enrolled at our institution in their entirety so that they can pursue their schooling career with confidence and with all the necessary skills. We are a dynamic learning institute striving to achieve educational best practice by maintaining excellence in education in a multi-cultural, multi-lingual and diverse educational environment.
Mission:
To give all learners the opportunity to develop their physical, mental, emotional and intellectual levels to the optimum at each one's individual pace.

To offer educators and support staff the opportunity to grow professionally and to ensure work satisfaction to the benefit of all learners.

To encourage networking, acknowledge valuable initiatives, share innovations and to maintain good relations with all stakeholders.

To develop partnerships based on trust and respect.

To remain an inclusive and diverse school accepting and respecting learners, parents and staff of various religious, racial, class and cultural backgrounds.
Daily Routine and times:
School starts at 08h00 for children to line in quad for a short assembly.

Grade 1 to G7: First period starts at 08h10.

First break is at 10h10 to 10:30

Second break is at 12h30 to 12:50

Grade 1 and 2 dismiss at 13:35 Mondays and Tuesdays and 13:20 Wednesdays to Fridays
Grade 3 dismiss 13:50 Mondays to Fridays
Grades 4 to 7 dismiss at 14:20 Mondays to Fridays
School Fees:
We are committed to providing excellent value for money. To sustain excellence it is expected that all parents prioritise paying for education. At the same time, we do take into consideration low income families and where necessary we have a commitment to provide various levels of exemption depending on income.
In order for us to provide quality education the SGB is obliged to employ additional educators and this is one of the largest expenses of the school, so therefore the support of the families is essential.
For the school to keep the fees affordable, we are committed to embark on fundraising, and family co-operation is dearly required.
Grade 1 to 7 Fees for 2016:
Annual fee is R 5000,00 per learner that must be paid in 10 equal instalments of R 500,00 per month from January to October.
BANKING DETAILS:
ABSA Bank
Account No: 0620140139
Branch Code: 512710
Parent Guidelines:
Parents must carefully read all notices sent to them by Acacia Park Primary for important information, and respond when necessary by completing the Return Slips and send it back to school the day after receiving.

Please keep the office informed of any changes regarding telephone/cell phone numbers, emergency numbers, home addresses, medical information etc.

Appointments must be made should any parent have a need to meet the principal.

Any messages/items delivered to the learners must be done via the office. If a parent needs to meet with a teacher it must also be done via the office.

Teachers will not be called from the classrooms during teaching time.

If a learner is kept at home due to illness, then the parent must provide the school with a letter/doctor's certificate when the learner returns.

If a learner needs to be kept at home for reasons other than illness, then the parent must request permission in writing ahead of time and the letter must be addressed to the principal.

Every term parents are provided with an Assessment Programme for the learners and it is the responsibility of the parents to ensure that learners are not kept home unnecessarily.

Please ensure that learners are neatly dressed according to the uniform code and make sure that learners have their stationery every day.

The school will not be held responsible for any lost property.

If a child has to be collected by a person other than the usual, then the school must be informed.

Learners must be fetched when the school dismisses and not be left waiting for too long. If for some reason there is a delay, then it must be brought to the attention of the secretary.

Learners will not be allowed to participate in sport after school or go on outings/excursions if the parents do not complete the permission/consent forms.
School Overview:
Acacia Park Primary School was founded in 1951 specifically for schooling the children of Members of Parliament. The learner numbers ranged from 70 in 1951 to about 140 in 1994. During that time the school was administered by the Transvaal Education Department. The school was later opened to all races since the existence of our new democratic Government.
Currently Acacia Park Primary School is a public school and is administered by the Western Cape Education Department and is now open to all learners from both inside and outside the village. Acacia Park Primary is an intimate home to 265 learners from Grade 1 to Grade 7. The surrounding environment is unique and tranquil and learners at all times are safe and secured.
Acacia Park Primary is a school involving excellent teachers with diverse culture, a committed support staff and a devoted School Governing Body. The staff and learners have maintained a wonderful rapport ensuring care, respect and consideration amongst each other.
Since January 2013 when I started here as principal, the school showed huge improvement in the Systemic results and we have been awarded with certificates for substantial improvement for the past three consecutive years.
At present a percentage of the learners come from within the area, but most learners come from the surrounding suburbs.
Our motto 'Certi Pergite' spells out ' Forward with determination' and that is precisely what we are striving to uphold.